sitting still on the chair was not happening
We celebrated your first birthday,
monster style
.
Bubs, you took your first steps in September, and now you are are walking like a champ. And not just walking, you damn near run. You love to be "chased" around the kitchen and the living room. Daddy will start to come after you, and you run away, giggling and looking behind you. The cutest thing ever is when you reach for my hand. I love walking hand in hand with you.
/
I mentioned last month that Hunter started a new daycare. On his birthday he was moved from the infant room to the young toddler room. They asked that since he was starting to walk that we put actual shoes on him for outdoor play.
This is like a whole section of retail I had never thought of before: mini shoes. How did I miss this??? Baby shoes are the cutest things everrrrrrrrr. I had the hardest time not purchasing him little wing tipped shoes or tiny Chuck Taylors. If I had my way, this kid would have had a shoe collection that rivaled Imelda Marcos. I restrained, and bought him a pair of sensible, sturdy hiking shoe from Target.
...but I'm telling you right now, there are no holds barred when it comes to nice shoes for Christmas and Thanksgiving.
Bubs, your daddy's birthday is two weeks after yours, and we spent the most beautiful Saturday afternoon going on a hayride and venturing out for your first pumpkin picking.
We posed for a quick family picture, which you obviously couldn't be bothered with...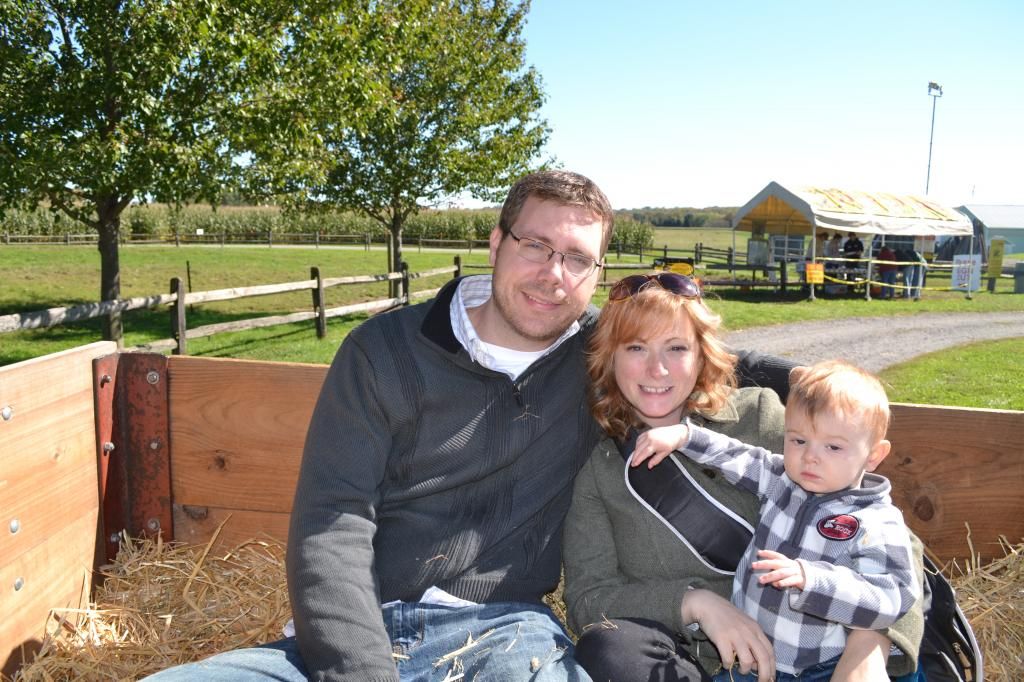 You are starting to copy things that others do. You ask for your brush so you can "brush" your hair (which translates into basically hitting yourself in the head).
And speaking of hair... you got your first hair cut this month. I held out until after your birthday, and I died a little as those beautiful coppery locks fell to the floor.
You got no less then 129,387,492,349 toys for your birthday, but your absolute favorite is a hand-me-down sled from your great aunt and uncle. We pull you around the living room, kitchen and through the leaves outside.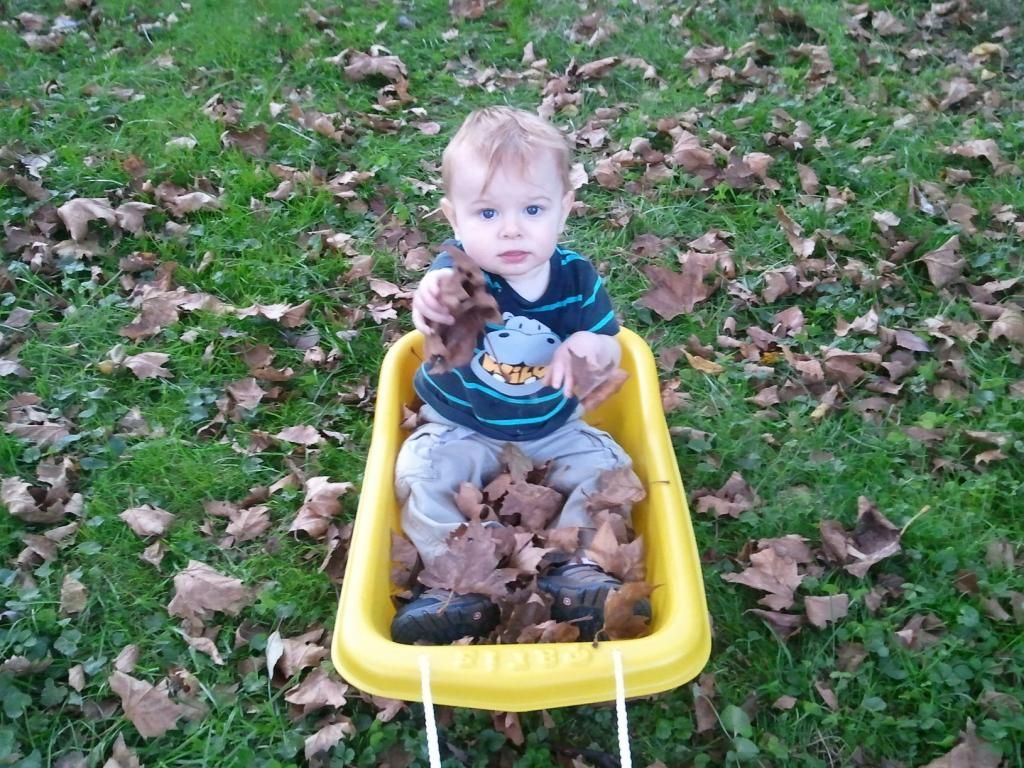 You also love bubbles, riding your Mater toy and playing peek-a-boo
Mommy and Daddy had a date night and we all spent the night at Mem and Pop's house. Normally when we have someone baby-sit Hunter, we have them come after he goes to bed. However, JEGs and I had tickets for a ghost tour that started right around the monster's bedtime so we decided to throw caution to the wind and let my parents deal with putting him to bed. In a strange place. Without us around. In a pack and play. Any parent can tell you this is a recipe for disaster.
But the Bubs handled it like a champ. He played with his cousin Bridget for most of the night and then around 9:00 quietly let my mom know he wanted to go to bed by putting his head down on her lap.
taking over Pop's favorite chair
Finally, we have Halloween. Technically, because Hurricane/Superstorm Sandy hit our area a few days before Halloween, our neighborhood rescheduled trick-or-treating until Saturday November 3. But October=Halloween in my book. I tried my hand at making a Raggedy Ann and Andy costume for Hunter and Jenna, but that went horribly wrong. So as back ups, we dressed the young lovebirds as monkeys.
At first he was all
and then they were like..
There is always next year, right?
Love you so much Bubtastic!
Always & Forever,
Mommy