It's time to deck the halls!!
Ok, so my halls, aren't completely decked yet, so I'm going to run through what I did last year.
Last year, I aimed for a very natural feeling- branches, holly and candle light- but all with a touch of shimmer. One of my favorite things was the centerpieces I set up on our coffee table
I took pine cones I collected and hit them with a little gold spray paint
added amongst the holly was smaller red ornaments as well as acorns with a dusting of gold paint
the dried holly was by far my favorite element
Also, around the apartment I took old Ball Jars and added some gilded ribbon, sand and a candle for extra ambiance. A candle wreath added some panache. Also, I had some pumpkins leftover from my Halloween and Thanksgiving decor, so I added a little simmer to them with more gold spray paint.
We can't forget my manger scene-- a gift from my mother
Since we don't have a mantle, I hung our stockings (with care, of course) from a self above our dining table.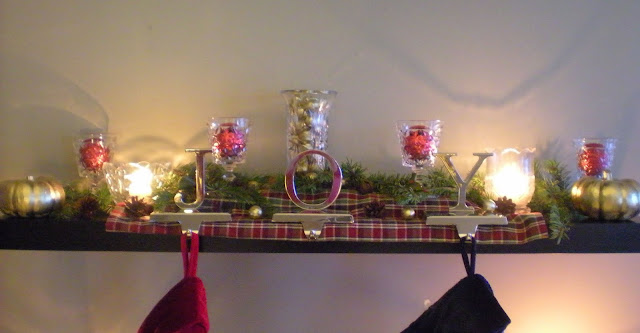 These stocking hangers were picked up for nothing via Freecycle. The glassware behind them are vintage goblets with Christmas balls placed inside.
I loved the mix of metallic with the natural elements
One thing I did add this year was a simple table setting
Instead of your normal chargers, I used leaves from a rhodendrum bush
I just love how un-perfect they are
For the centerpiece, I placed two candle wreaths on cake stands and added a few more pine cones
Have you decorated yet? What is your favorite area to decorate? Is it the lights on the front lawn, or do you love putting the star on the tree?
Always & Forever,
ME